Porsche will soon expand the Taycan line-up with a new, more practical Cross Turismo estate variant. The new EV is due to make its official debut next month, and to give a taste of what's to come, the brand has released some fresh teaser images of the car.
The new Porsche Taycan Cross will be available to order from its official launch date on 4 March. It'll be on UK roads this summer, when Porsche hopes the extra body style will help it steal a march over its EV competitors from Tesla and Audi.
Porsche's official "spy shots" pretty much reveal the Taycan Cross Turismo's styling in full. Up front, it looks identical to the saloon, with a pair of slender LED headlamps set into hollowed-out "eye-sockets." The charging port hasn't moved, either – it's still located behind the front left wheel.
However, it's all change from the B-pillars backwards. The roofline extends the full length of the car, like that on the Panamera Sport Turismo. The obvious benefit will be an increase in practicality, with rear-seat headroom expected to increase over the standard car.
The estate's boot space should also swell to around 500 litres – compared to the standard Taycan's 447-litre capacity – while the slightly raised suspension should allow the EV to crest speed bumps more gracefully. However, the extra practicality will come at a premium, as the price of the Cross Turismo will likely increase by around £5,000 over the standard car.
Stefan Weckbach, head of the Taycan line-up, explained the brief of the new car saying: "With the Taycan Cross Turismo, we wanted to offer a little bit more space, a little more flexibility and versatility. We developed a completely new roofline, fitted with roof rails, a more generous second row and bigger trunk, all to make a car that is perfect for an active lifestyle. A car that is perfect for both an urban environment and the countryside."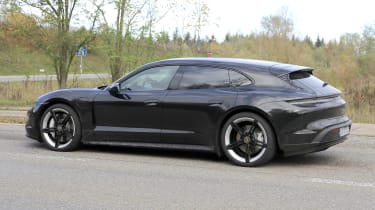 Weckbach also outlined the thinking behind the new car's chassis tweaks, stating: "In order to enable it to handle light off-roading and gravel roads, we increased the ground clearance. And we optimised our suspension system so the Cross Turismo comes with a CUV (cross utility vehicle) specific driving mode. This makes sure it does well on gravel roads in terms of stability, performance, and dynamics."